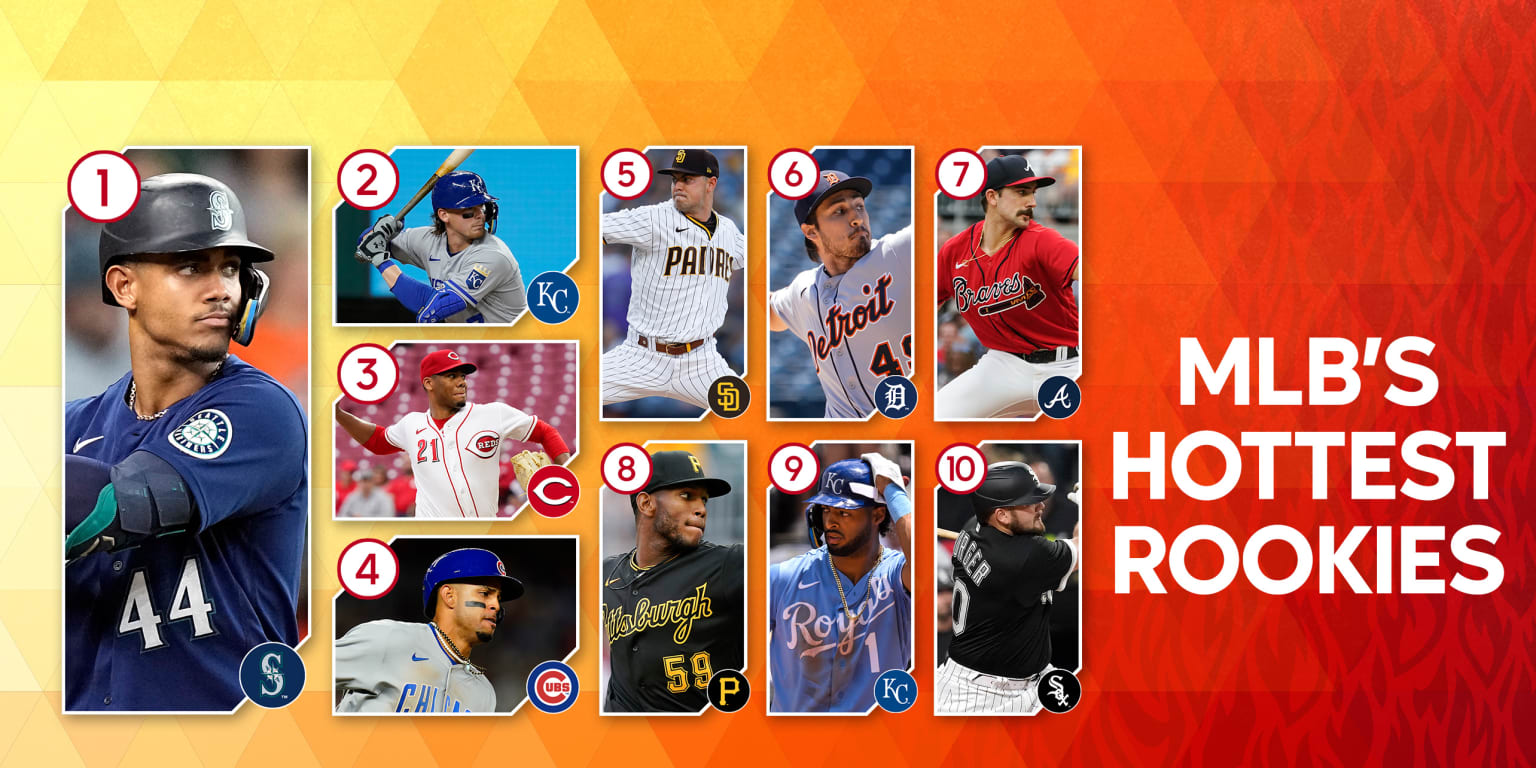 Welcome to the June issue of the Rookie Hot List, MLB.com's monthly rundown of some of the rolling rookies in the Major Leagues.
A reminder, as always: it's not about who has the best season. It's not about who will win Rookie of the Year. It's about who's hot – novice players who have the best performance in the last 30 days. There is a slight preference for playing time, so a player with twice as many at bats or innings will be preferred over a player with slightly better speed stats.
Among those who just missed this week: Jack Suwinski, Jose Miranda, Nolan Gorman, Brendan Donovan, Jeremy Peña, and Graham Ashcraft. You can absolutely argue that one of them has been in the top 10. These are judgmental statements.
1. Julio Rodríguez, OR, Mariners (no longer eligible to be ranked as a prospect)
Last month we had Rodríguez at number 5, noting that the only thing left to come was the power. The power has come. Rodríguez is at .288/.351/.529 in the past 30 days, with seven home runs. And he's still wild, with seven steals in eight attempts in that span. Do you know what a player is who averages seven home runs and seven steals a month over an entire season? A 40/40 player. Rodriguez is special.
2. Bobby Witt Jr., SS, Royals (no longer fit to be ranked)
Like the only name above him on this list, Witt is a super hyped prospect who has found his stride in the big leagues. There's virtually nothing to separate him and Rodríguez, and if you wanted to turn them around, it would be hard to argue. Witt posted a line of .283/.348/.586 for the past 30 days, taking five steals in five attempts while playing shortstop regularly. The Royals have been arguing, but Witt looks exactly as advertised.
3. Hunter Greene, RHP, Reds (no longer eligible to be ranked)
The tune should be familiar by now. A tip-top prospect had a hard time arriving in the Majors, but he's starting to see it. Greene is still collecting strikeouts — 44 in 34 innings in the past month — but he's reduced the walks. He issued 11 of them in our chosen time frame, but five of them came on May 15th. In five starts since then he has 35 Ks and six walks.
4. Christopher Morel, OR, Cubs (Chicago No. 21 prospect)
The first name on this list that isn't a top prospect, Morel has been a pleasant surprise for the Cubs since his May 17 debut. He sports a .278/.360/.485 line over that time, with three home runs and six steals in eight attempts. The power — 12 extra-base hits — is the biggest surprise and arguably the hardest to keep. But so far, he's been a huge boost for Chicago.
5. MacKenzie Gore, LHP, Padres (no longer fit to be ranked)
At some point, Gore isn't just hot anymore. He is good. His last time out was a tough one against the Rockies, but that followed a run of nine excellent starts to kick off the season. Even with that one clunker, he has a 2.59 ERA for the past month with 32 strikeouts and 12 walks in 24 1/3 innings. He has not handed in a homerun since his debut on April 15.
6. Alex Faedo, RHP, Tigers (detroit No. 15 prospect)
If you play fantasy baseball, you're familiar with the term "post-hype sleeper." It was actually made for guys like Faedo. Once a Top 100 prospect, he's fallen off most fans' radar in recent years, but he's been great for the Tigers since his May 4 debut. Last month, he struckout 20 and walked eight in 27 innings, with a 2.67 ERA in five starts.
7. Spencer Strider, RHP, Braves (no longer fit to be ranked)
After dominated in relief, Strider was moved to the rotation. His first start was a little rough, but he seems to settle down. In the past month, spanning 20 2/3 innings, split between starting and relaying, he amassed 31 Ks — that's 13.5 per nine innings against 10 walks with a 1.74 ERA. Like Gore, he has also kept the ball in the park, with one homer allowed all season.
8. Roansy Contreras, (MLB No. 64 prospect, Pittsburgh No. 6)
Contreras got a few relief appearances in April and held his own. Now he does more than that in the rotation. In four starts, he struckout 23 batters against six walks with a 2.21 ERA. He struggled a bit against the scorching Braves, but even in a game in which he recovered a bit, he still struckout seven.
9. MJ Melendez, C/OF/DH, Royals (MLB No. 45 prospect, Kansas City No. 1)
Melendez keeps hitting, so he keeps getting at bats. Before this year, he played a total of nine games as a professional in every position other than catcher. But with Salvador Perez pretty firmly anchored in the catcher and Melendez raking in, well, the Royals have to find a place for him. So Melendez started on right field and DH, and keeps hitting. He is at .260/.333/.510 with six home runs in the past month.
10. Jake Burger, 3B, White Sox (no longer fit to be ranked)
Burger was a godsend for a team plagued by injuries. He's only had 59 at bats in the past month or he would be much higher on this list. He hit .322 with a .385 OBP and a .712 slugging percentage in those 59 at bats, hitting six home runs. If he can do more than 100 plate appearances, he'll probably be at the top of next month's list.