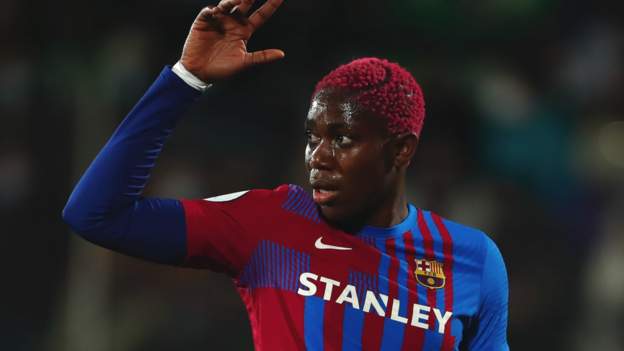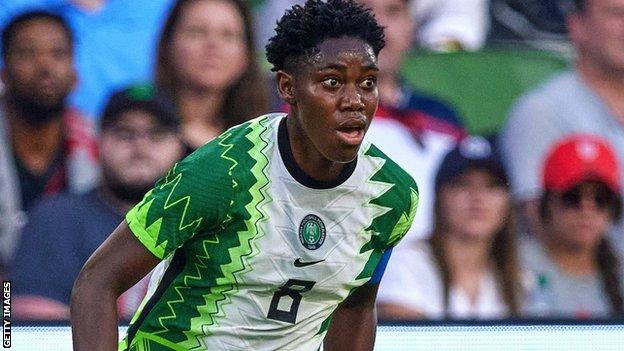 Nigerian forward Asisat Oshoala says the Super Falcons should not be complacent as they defend their Women's Africa Cup of Nations crown in Morocco next month.
However, Barcelona star Oshoala believes the quality of other sides across the continent is improving rapidly.
"I really have faith in our team [but] we also know it's more competitive now," the 27-year-old told the BBC World Service.
"Qualifying was really tough. We had to go through Ghana and Ivory Coast to get to the tournament and now we see the best of both sides in Africa.
"You have teams in Africa that are growing. We lost to South Africa in a friendly and we couldn't even beat some teams like Mali – we struggled to beat them.
"So it just goes to show that it won't be easy to win. It used to be the case for us."
The tournament, which was last held in Ghana in 2018, has expanded from eight to 12 teams and will run from July 2-23.
Nigeria has been pulled along South Africa, the side they defeated in the final four years ago on penalties, and the first qualifiers Burundi and Botswana.
"It will be great to have the tournament back and this time in a different format," added Oshoala, a four-time African Women's Footballer of the Year.
"It will be quite interesting and we will see how it goes. We have to step up our game and try to make sure we keep the title."
Oshoala is proud to be a role model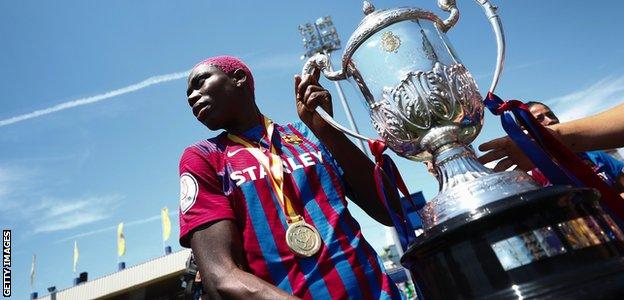 Oshoala enjoys being a role model for young people across the continent – even those who aren't football fans.
After she became the first African woman to win the golden boot of Spain, she wants to continue to lead by example and break down barriers.
"I'm very aware that there are a lot of kids in Africa who really look up to me," she said.
"They tell me 'You're my icon, you're my idol' and stuff. You love hearing things like this, you love the fact that the younger generation sees you as a role model and someone they can look up to.
"It's not just sports, it's not just football. You have other people outside of football – they love your journey and feel they can relate to your story.
"I just keep doing what I do because you don't know who inspires you out there. I'm just a girl who's here to help people I can help, consciously or unconsciously."