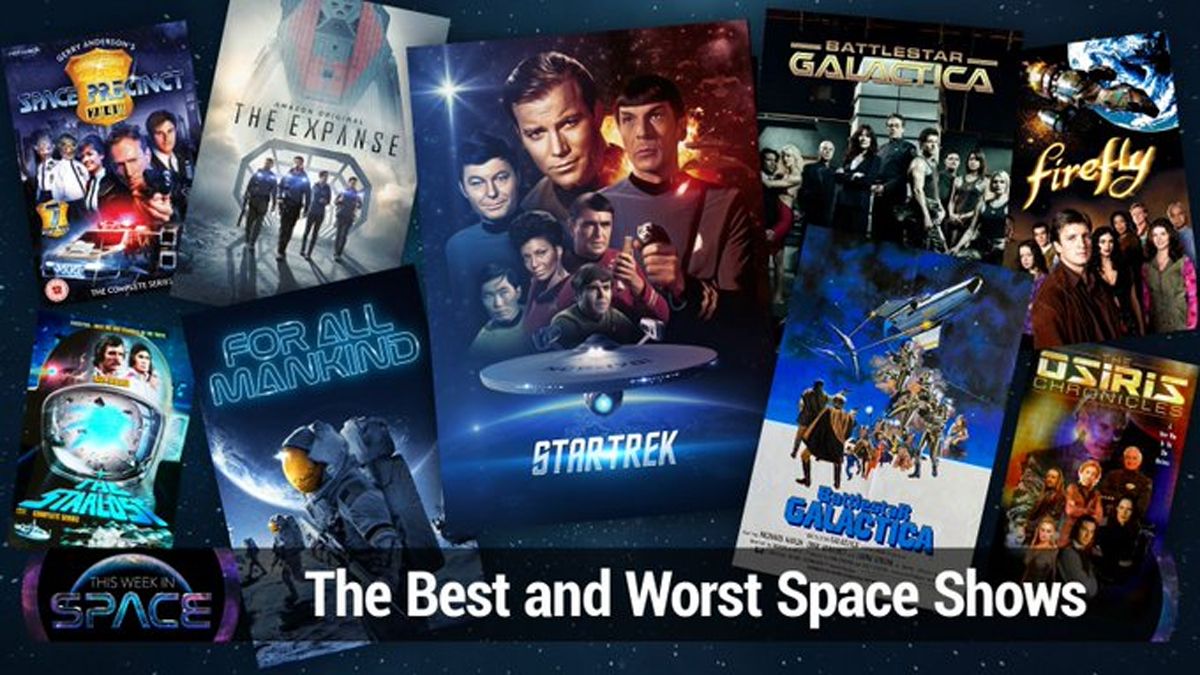 Fans of science fiction have enjoyed space stories on television for as long as TV has existed. But what's the best space TV show of all time? What about the worst?
In this episode of This Week in Space (opens in new tab)Rod and Tariq are back to discuss the generation gap over the best and worst space sci-fi ever on TV.
Top performers on the list? "For All Mankind" and (of course) "Star Trek" ride high… but the worst? Has anyone ever seen "Starlost"? "Lost in space"? "Rocky Jones – Space Ranger"? Before sticking a pencil in your eye to avoid seeing more, better listen to this indispensable guide to all things space on TV.
Also this week, SpaceX's spacecraft moves one step closer to launch from Starbase in South Texas, China makes an ET signal claim (but no, they're not aliens) and don't miss an amazing planetary alignment in June's sky.
Download or subscribe to this show on: https://twit.tv/shows/this-week-in-space (opens in new tab)†
Get ad-free episodes with Club TWiT at https://twit.tv/clubtwit (opens in new tab)
Related links to news items:
This week in space (opens in new tab) covers the new space age. Every Friday we dive deep into a fascinating topic. What will happen to the new race to the moon and other planets? When will SpaceX really send people to Mars?
Join Rod Pyle and Tariq Malik from Space.com (opens in new tab) as they cover those questions and more every Friday afternoon. You can subscribe to your favorite podcatcher today.
This week's host in space on TWiT
This week's host in space on TWiT
Rod Pyle
Rod Pyle (opens in new tab) is an author, journalist, television producer and editor-in-chief of Advertisement Astra magazine (opens in new tab)† He has written 18 books (opens in new tab) on space history, exploration and development, including: Room 2.0† Innovation the NASA way† Interplanetary robots† Blueprint for a Battlestar† Amazing stories from the space age† First on the moonand Destination Mars
In a past life, Rod produced numerous documentaries and short films for The History Channel, Discovery Communications and Disney. He also worked in visual effects on Star Trek: Deep Space Nine and the Battlestar Galactica reboot, as well as several sci-fi TV pilots. His most recent TV credit was with the NatGeo documentary about Tom Wolfe's iconic book the good stuff†
This week's co-host in space
This week's co-host in space
Tariq Malik
Tariq Malik, responsible for the editorial vision of Space.com, has been editor-in-chief of Space.com since 2019 and has covered space news and science for 18 years. He joined the Space.com team in 2001, first as an intern and soon after as a full-time spaceflight reporter covering human spaceflight, exploration, astronomy, and the night sky. He became the editor-in-chief of Space.com in 2009. An on-air talent, he has featured space stories on CNN, Fox News, NPR, and others.
Tariq is an Eagle Scout (yes, he earned the Space Exploration merit badge), a Space Camp veteran (4 times as a kid, once as an adult), and did the ultimate "comet comet" ride while reporting gravity fires . Before joining Space.com, he served as a staff reporter for The Los Angeles Times on city and education beats. He has journalism degrees from the University of Southern California and New York University.